There are 2 possible positions for the balance on the forearms:
1. Over the head
Balancing above the head is similar for the base as the lower arm stand of the flyer. The balancing should work well first while lying down, before a couple dares into this position! In principle, the base may balancing on the forearms all positions of the flyer with 2 contacts. Only the entrance to the position limits the variations. For instance the standing flyer reaches the forearms only from the shoulder. This entrance requires expert level and looks like nothing special. Nevertheless, it certainly makes a lot of fun in training → safety!
---
2. In front of the body
This position is characterized by a very high stability, because the center of gravity of the flyer is very close to that of the base and thus no shear forces occur. The base, however, can not bring its center of gravity into the line of force without leaning backwards. Luckily, there are many aesthetic possibilities to combine the stability of this position with dynamic in and offs. Especially dancers are very creative here.
Examples:
To get his center of gravity under the flyer, the base pushes his hips forward and leans the torso slightly backwards … e.g. Wedding seat (→ back flyer).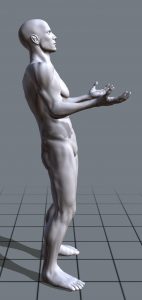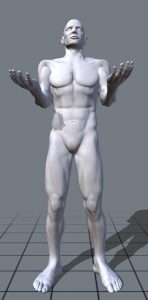 Many bases support unfavorably over the abdomen and thus increase the existing hollow cross. Picking up or turning off the flyer can very easily create an overload in the back.
---
In order to get the own center of gravity above the ones of the flyer, the base dodges backwards with his hips and leans forward in the upper body … e.g. Fish (→ side flyer).